About Ellen Johnson
Ellen Johnson enjoys expanding her talents in multiple formative areas as a vocalist, author, lyricist, songwriter, producer, educator, actor, poet, promoter, creative consultant, sound energy facilitator and entrepreneur. Her devotion to music and the arts span a forty year range that include a professional singing and acting career along with developing her own record label and educational division (Vocal Visions), video production and artist promotion company (Sound Visions Media), and creativity/sound energy consulting and workshops (Sound Creativity).
Ellen grew up listening to her mother sing and play piano laying the foundation for her passion for music. Her birthplace, Chicago, Illinois, is where this entrepreneurial spirit began her journey into the creative arts. At the age of sixteen she was chosen to attend the prestigious Northwestern University summer acting program, which inspired her to become an actress. It wasn't until she turned nineteen that she began singing after being advised to take some lessons for future acting auditions.
 "Once I started singing it was like love at first sight and I knew I wanted to pursue both acting and singing as a career." She has sung a variety of styles including folk, pop, blues, jazz, classical and musical theater repertoire. "My early influences were quite eclectic; Joni Mitchell, Betty Carter, Flora Purim, Ella Fitzgerald, Sheila Jordan, Bonnie Raitt, Barbara Streisand, Joan Sutherland, and avant-garde music. I was never satisfied listening to just one genre and I always liked inventive singers." Ellen has kept acting an active part of her life through the years side by side with her singing career doing stage, film, TV, industrials, commercials, voice-overs and webisodes.
Ellen has performed, recorded and studied with many exceptional musicians including; Charles McPherson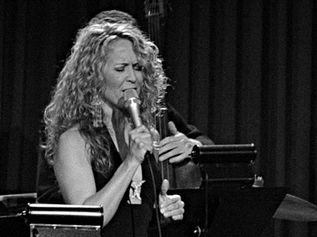 , Louie Bellson, Bobby McFerrin, Sheila Jordan, Jay Clayton, Don Braden, Willie Pickens, Roy McCurdy, Billy Drummond, Cameron Brown, Rick Helzer, John Clayton, Gene Aitken, Hugh Martin, Marni Nixon, and George Shirley. She has appeared nationally and internationally at many prestigious venues, past and present. Described by Jazz Journal InternationalMagazine as "superior jazz singing by an artist of the highest quality," Ellen has four solo jazz recording projects: Form & formless, These Days, Chinchilla Serenade, and Too Good To Title.  These Days, called "one of the best albums to be heard from a no-nonsense jazz singer" (Downbeat) and a "sophisticated and successful album that raises the standard of modern jazz singing by at least one notch" (All About Jazz), features a duet with legendary vocalist Sheila Jordan. In 2006 jazz journalist and producer, Arnaldo DeSouteiro, selected Johnson as one of the top three jazz vocalists of the year along with Dianne Reeves and Diana Krall. Ellen, known for her dedication to the vocal music of Charles Mingus, premiered Mingus and Beyond, in San Diego and as part of the Wahya Consort concert performance during the 2011 Ojai Music Festival activities.
In the 1980's Ellen formed the company Vocal Visions promoting and producing jazz recordings and music instructional products, including her own educational publications, The Warm Up CD, Vocal Builders and You Sing Jazz. She has published lyrics to the Sonny Rollins well known composition, "St. Thomas" and three Charles Mingus compositions: "Peggy's Blue Skylight," "Nostalgia In Times Square" and "Noddin Ya Head Blues." In 2002 Ellen received a best jazz composition award from Just Plain Folks out of 100,000 songs submitted for her original wordless composition "Chinchilla Serenade." With a long history of writing poetry, Ellen has recorded and performed her poems in collaboration with musical artists and was a guest poet during the Ojai Poetry Festival in 2009 premiering Voices and Visions.
That same year she co-founded and became the president of the Jazz Vocal Coalition, the first jazz singers collective non-profit organization that provided promotion, education, support and social networking to jazz singers throughout the United States with chapters in Los Angeles, New York and Minnesota. Ellen has worked within the music industry as a publicist and promoter through her company, Sound Visions Media, where she has gained visibility for artists, authors, businesses and non-profit organizations. Serving as the jazz editor for Singer and Musician Magazine she also promoted jazz singers through her written articles and interviews that included jazz luminaries like Nancy Wilson, Jon Hendricks, Tierney Sutton, Alan Paul and Andy Bey. Johnson recently completed Sheila Jordan's biography entitled, Jazz Child: Portrait of Sheila Jordan published by Rowman and Littlefield nominated for the Jazz Journalists Association 2015 Awards and voted #2 on the JazzTimes Readers Poll for best book. 
Her other professional ventures include recording for jingles, film scores, and other project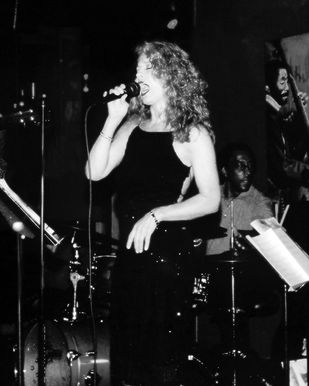 s not to mention collaborating with the great songwriter, Hugh Martin, who wrote, "I'm at a loss for words to praise your voice. It deserves adjectives that haven't been invented yet regarding its beauty of tone, range, and perfect intonation." She has been a featured soloist for many performances of Duke Ellington's Sacred Concerts filling the shoes of soloist Alice Babs so well that even the late Stanley Dance commented how good her renditions were in comparison. Ellen's versatility contributed to her winning a finalist slot in the American Traditions Vocal Competition where she performed jazz, musical theater and classical renditions of songs for a prestigious panel of judges that included Della Reese, Charles Strouse, William Warfield, and George Shirley among others and a scholarship to the AIMS (American Institute of Musical Studies) opera auditions program in Graz, Austria. 
Johnson's own education includes; a Master's Degree in Vocal Performance from San Diego State University, BM in Vocal Performance from the American Conservatory of Music, course work towards a PhD from the University of Humanistic Studies, UCLA Extension courses in the Music Business Certificate Program and she has been on the voice faculties of the University of San Diego, the Old Globe Theatre's MFA program, California Polytechnic University Pomona, the California Jazz Conservatory and Jazzschool, and has given master classes in vocal jazz at the University of Southern California as well as many other colleges. She currently gives workshops, clinics and private sessions through her own studio at www.vocalvisions.net. 
Ellen served as a panelist and guest speaker for music industry and vocal conferences that included a variety of industry professionals and artists such as: Alan Paul (Manhattan Transfer), Jon Hendricks, Mark Murphy, Kurt Elling, Don Braden, Kitty Margolis, Dr. Hans Von Leden, Derek Sivers, Jeffrey Weber and others. She was a keynote speaker on the "Art Song of Duke Ellington" and "The Art Song of Jazz" for the National Association of Teachers of Singing (NATS) international conferences, past president of the San Diego Chapter of NATS, and the California vocal jazz representative for the International Association of Jazz Educators (IAJE). She was recently asked to give a presentation at the 12th International Research Conference/Jazz Voices in Graz, Austria in May, 2018. 
Ellen's interest for over 40+ years in music healing and medicine before it became eminent has been an ongoing passion and study. She has done her own research along with studying with groundbreaking prominent educators and researchers like Elias Mohan (William David), Fabien Mamam, Brant Secunda, Jonathan Goldman, and Dr. Jeffrey Thompson. She recently completed a 7-week training on Sonic Science and Cymatics with John Stuart Reid, along with Integral Studies in Music Therapy at the University of Humanistic Studies, past certificates in Expressive Arts Therapy (1998) with Jane Goldberg and Creativity Coaching training with Eric Maisel. Ellen has taught a variety of  workshops on, "Sound Creativity," "Music That Heals and Inspires," and "Using Vocal Improvisation To Encourage Creativity."  She currently resides in Northern California with her husband, producer and author Jeff Foster. She can be contacted at: ellen @ ellenjohnson.net.